Last week I posted about my sea fan purchase
here
. I tossed around a few different possibilities as to how to display it and all of its fan-tasticness (last bad pun for the day, promise)…..and I decided to go the Crate and Barrel route. I just love the tan linen texture paired with the delicate veining of the white sea fan. Here's a pic to refresh your memory: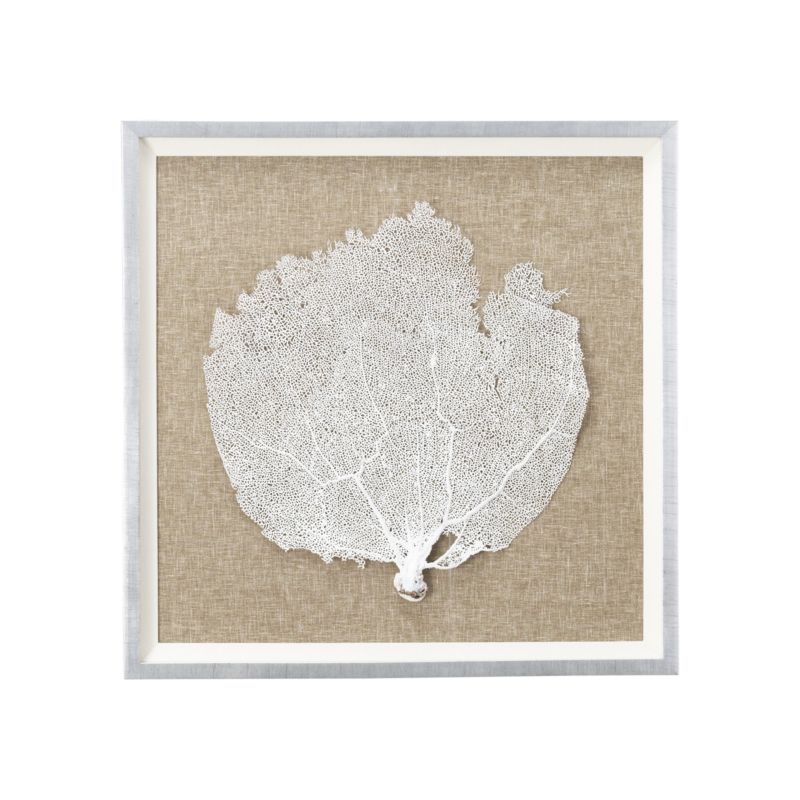 Crate and Barrel
 The C & B version above is sporting a $300 price tag. Here is my much cheaper yet very similar looking version:
And here's a close up, side by side comparison:
I recreated this look for $18. $18, people! (I used several materials, including the fabric and frame, that I already had on hand.) To purchase all of the supplies to recreate this art (spray paints, sea fan, frame, and fabric), the total cost would be a whopping $45. Here's how I did it:
1. Buy a large sea fan. I found mine at TJ Maxx/Home Goods….if I was looking online, Ebay would be my first stop. I spent $15 on my sea fan, and it is approx 22″ square in size. It was also originally a pinkish/purple color, as seen below:
2. Spray paint your fan with white primer. *This may not be a necessary step, but I learned my lesson once (or twice) before by painting an unknown surface without primer and it was a mess. If I'm not sure the paint will stick, I do a quick primer coat. I used Krylon's white spray primer.
3. I purchased a cheapo 20×30″ poster frame at Walmart for around $12….similar to
this
. It had a plexi-glass cover, which you can just throw out/use for something else as you won't need it for this project. You could also spend a bit more money on a glass shadowbox frame (Michael's Crafts has a wide variety and their frames are usually always on sale)…the benefit of the shadowbox is that your sea fan will be protected behind glass. I myself wanted a larger (and inexpensive frame) and I wasn't worried about tiny hands grabbing at an exposed fan since we don't have any bambinos yet. The downside with the shadowbox is that if will cost a bit more and you may have to paint your shadowbox frame a different color (if you don't like the finish as is), and that will require more prep work as you will have to carefully cover the glass before you paint. I primed this frame in white, also, as I'm pretty sure it was a laminate type material and would probably need to be primed.
4. Measure fabric of your choice to cut out and cover the base of the picture frame. C&B's site says they use a "linen like" material. I used tan muslin which looks very similar to linen and has a great texture to it. I picked this up awhile back at Joann's Fabric for $3/yard. *Be sure to add at least 1″ to each side's measurements. For example, since my frame was 20×30″, I cut out a piece of fabric that was 22×32″.
6. Hot glue (or tape or staple – whatever your poison) the fabric to the cardboard base. I used my trusty glue gun – a housewarming gift from my Mom who wisely knew this would come in handy! The tape you see in the picture below is from a previous project this frame had been used for.
7. By this point, you should be ready to spray your sea fan and picture frame border with the top coats. I used white semi-gloss by Krylon for the sea fan and aluminum (also by Kryon – part of their metallic line) for the frame (see below). I really like the aluminum color because it has a matte finish. I've used Krylon's silver before, and I find that to be too shiny for my liking.
You may not need to spray your sea fan with a top coat if you are happy the way it looks with just the white primer. Your call.
8. Once the topcoats have dried, put your fabric covered base back inside the frame. Then, place your sea fan in in the center of the frame on top of the fabric. Once it's placed in a position you like, use your glue gun to adhere the fan to the fabric. I did this by simply lifting up one corner at a time, applying glue to the fabric, then gently pushing the corner of the fan into the glue and fabric.
I am so, so, so happy with the way this project turned out. It was very easy AND my version is even slightly bigger than Crate & Barrel's! I'm still not sure where I will be hanging this pretty piece (front runners are our master bath or the living room), but for right now I have the fan temporarily hanging on an empty wall in our dining room:
I love recreating expensive decor for much less than the original cost. I never would have spent $300 on this art, but I think the $18 was well worth it and I like that it's something that I made myself. Anyone else recently completed a "look for less" project???
This week I will be linking up to the following parties:
Monday:
The DIY Showoff
,
Between Naps on the Front Porch
,
Skip to My Lou
,
The Girl Creative
,
House in Roses
,
Making the World Cuter
,
Keeping it Simple
,
Sumo's Sweet Stuff
,
Super Stinky Boys
,
Mad in Crafts
,
Creating Really Awesome Free Things
and
http://diyhshp.blogspot.com
.
Friday:
Chic on a Shoestring
,
Romantic Home
,
Finding Fabulous
,
Common Ground
,
It's a Hodge Podge Life
,
French Country Cottage
,
A La Carte
,
Just a Girl
,
Shabby Nest
,
Fingerprints on the Fridge
,
Tatertots and Jello
and
Stuff and Nonsense
.